We manufacture tamper resistant election envelopes and mail in ballots. And we can do it fast!
Flatsheet Envelopes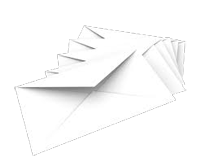 At Texas Envelope Company, we are dedicated to providing you with the best solution for your needs. "Flatsheet" is the term we use to produce very high quality, lithographic, printed envelopes. This term is derived from the process used to produce the envelopes.
For flatsheet printing, we design the artwork around an envelope that is completely open – prior to the folding and gluing (or converting) processes. That design is then printed on a large flat sheet using the most efficient configuration possible to get you the most for your money. This results in the most precise, highest quality of printed envelope available.
Let us show you some samples of our flatsheet work and provide you with a custom quote for your next flatsheet job.